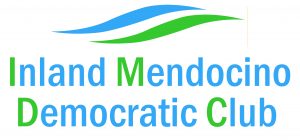 The IMDC Forum on the Mendocino County Board of Supervisor's proposed Cannabis Land Use ordinance was held on June 10.
The Forum Participants
U. C. Berkeley Cannabis Center scientists Van Butsic & Phoebe Parker-Shames shared their research about how this crop effects land, water and wildlife.

Henry's Original - Joshua Keats and Flow Kana - Amanda Reiman presented their views on proposed Ordinance Chapter 22.18

Mendocino Cannabis Alliance - Michael Katz and Small Grower – Monique Ramirez presented their views on County regulation & permitting thus far

Environmentalist - Ellen Drell spoke about the referendum process if the BOS passes the new ordinance.
See what our Representatives are Doing
Click through to their web sites below